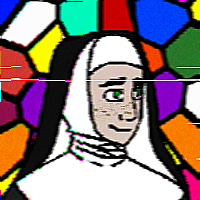 close

 Secular Name: Sacha
 Vowed Name: Sister Thomas
 Age: 28
 Gender: Trans man
 Pronouns: He/It
 Sexuality: Biromantic Asexual
 Height: 5'10" (179cm)
   
 Sacha was raised in a traditionally Catholic home. He never
 stood out much in his younger years, often choosing to
 simply keep his head down and his mouth shut so that he
 could avoid the strict punishment that was sure to be doled
 out for stepping a mere inch out of the perceived line.
 Around his final year of high school, Sacha ended up coming
 out as transgender to his family and community. His family
 wasn't actively supportive but at the very least agreed to
 use his chosen name, pronouns, and not interfere with his
 medical transition. His grades were good, not spectacular,
 but enough to get him into a relatively nice college a few
 states away from the parents and community he ended up
 feeling so suffocated by as he rapidly approached adulthood
 and completed his general education courses at the local
 community college. Just before moving for school, Sacha got
 and recovered from his top surgery at home with his parents.
 
 Entering college was like entering a whole new world for
 Sacha. He no longer had anyone constantly looking over his
 shoulder, dictating how he could and could not behave, so he
 let loose. He fell into harmful habits and addictions he'd
 told himself as a child he would never get into. He started
 drinking heavily and regularly, chasing the alcohol with
 empty, pointless sex with people he felt no draw to. He
 followed failed relationship after failed relationship with
 benders on a grand scale, dragging his two best friends at
 the time [Lewis and Pippa] along for every step of the ride.
 They were inseparable and those around them often said they
 would come into rooms like a Tasmanian devil, causing mayhem
 and having the time of their lives, before leaving everyone
 in a cloud of dust wondering what had just happened.

 At 26, toward the latter years of the trio's college
 education, Sacha went through a breakup that left him
 shattered. His grades tanked, he stopped showing up to
 classes, and he started isolating himself from everyone 
 until Lewis and Pippa stepped in. They managed to pull Sacha
 out of his funk but he did a 180 and delved straight into a
 two week long deluge of alcohol and partying to numb any 
 feeling that drifted through his mind. It probably would've
 gone on longer if it hadn't been for Sacha's decision to get
 in the taxi home on the last night. The crash and events 
 leading up to it were largely all a convoluted jumble of 
 brief glimpses of lucidity and the alcoholic haze of color 
 that clouded the moments between. The one thing Sacha did 
 remember clearly was waking up in the unfamiliar bad of the
 hospital only to receive the news that he was the sole 
 survivor and that he had been in critical condition for 
 several days.

 His road to recovery had been rough and lonely. He ended up
 turning to the only people he still had and the only
 community he felt at home in: his family and church. Sacha
 eventually moved out of the hospital and back in with his
 parents before starting to attend church services again.
 Shortly after returning to services, his pastor took him
 aside and told him about Two Harvests on the Mount. He
 explained that they were accepting of those with "rough"
 pasts such as his, and that maybe a deeper relationship
 with Christ would help Sacha heal. Sacha decided to look
 into it, reaching out to the abbot of the monastery to
 request information on the steps to becoming a nun, and
 after some correspondence made the jump to moving into the
 monastery to begin his monastic life.